In this comprehensive guide, we will explore the top four ways to skillfully wear flannel shirts for men, allowing you to showcase your impeccable style and elevate your fashion game. Flannel shirts are versatile and timeless pieces that can effortlessly transition from casual to semi-formal looks. By mastering the art of wearing flannel shirts, you can exude confidence and make a strong fashion statement in any setting.
1. Choose the Right Fit
The key to pulling off a flannel shirt with finesse lies in selecting the perfect fit. Opt for a shirt that complements your body type, ensuring it neither hangs loosely nor clings uncomfortably. The ideal fit should allow ease of movement while still maintaining a tailored appearance.
When trying on a flannel shirt, pay attention to the shoulder seams, which should align with your shoulders. Additionally, check that the sleeves end just at your wrists or slightly above them. A well-fitted flannel shirt not only looks better but also enhances your overall comfort, making it an essential component of your wardrobe.
2. Pairing with Complementary Outfits
Flannel shirts offer a plethora of styling options, and the key to success is pairing them with complementary outfits. For a casual yet refined look, consider combining your flannel shirt with a classic pair of dark-wash jeans and rugged leather boots. This ensemble exudes a rugged charm and is perfect for outdoor activities or relaxed gatherings.
To transition to a more semi-formal setting, layer your flannel shirt with a sleek blazer or a tailored sports jacket. Pair this combination with chinos or dress pants for a polished appearance that is suitable for a business-casual setting or a dinner date.
3. Embrace Seasonal Flannel Styles
Flannel shirts come in a variety of weights and patterns, making them suitable for different seasons. During colder months, opt for thicker flannel shirts with traditional plaid patterns to stay warm and cozy. Pair these with corduroy pants or wool trousers for a classic winter look.
As the weather warms up, embrace lighter-weight flannel shirts in more subdued patterns or even solid colors. Roll up the sleeves and wear them with shorts or lightweight khakis for a cool and effortless summer vibe.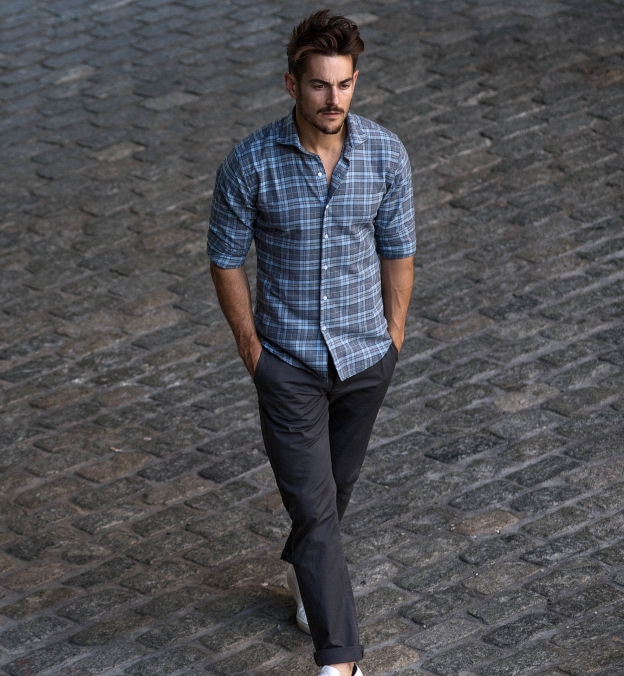 4. Layering for Versatility
One of the greatest advantages of flannel shirts is their versatility, which can be further amplified by strategic layering. Use your flannel shirt as a base layer and add a denim jacket or a stylish vest for a rugged and layered look. This not only adds visual interest to your outfit but also provides practical warmth during cooler days.
In colder weather, consider layering your flannel shirt under a wool sweater or a cardigan. This combination adds depth to your attire and ensures you stay comfortable in fluctuating temperatures.