1. The Classic Casual Look
The classic casual look with a denim jacket is a timeless fashion choice that never goes out of style. Pair your favorite denim jacket with a plain white t-shirt and some well-fitted chinos or jeans. This ensemble exudes effortless coolness and is perfect for everyday wear or a laid-back weekend outing.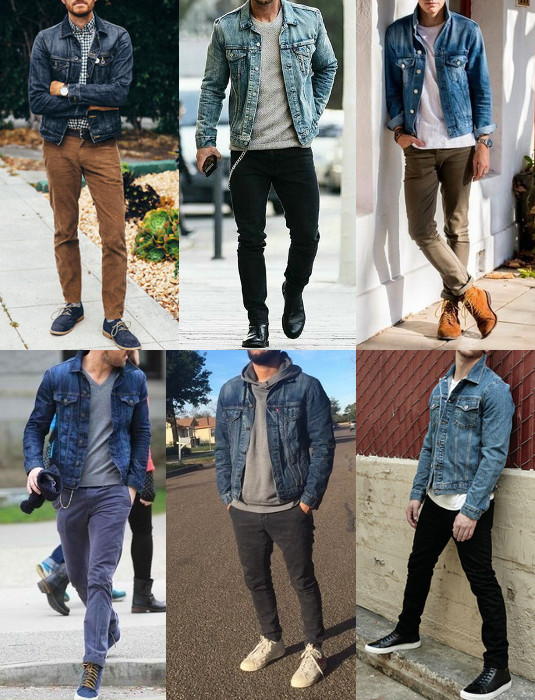 2. Elevating with Layers
Layering is a fantastic way to add depth and style to your outfit. To achieve a more refined look, consider wearing a light sweater or a slim-fit button-up shirt underneath your denim jacket. This combination is both stylish and practical, making it an excellent option for transitional weather.
3. Double Denim Done Right
Double denim, when executed properly, can make a bold and fashionable statement. The key to pulling off this look is to choose denim pieces in different washes or shades. For example, pair a dark wash denim jacket with lighter wash jeans to create a stylish contrast. Confidence is key when rocking the double denim look.
4. Dressing it Up
Contrary to popular belief, a denim jacket can be dressed up for semi-formal occasions. Opt for a tailored denim jacket in a darker hue and pair it with dress pants or chinos. Add a dress shirt and tie to complete the ensemble. This combination strikes the perfect balance between smart and casual, making it suitable for various events.
5. Embracing the Denim Vest
For a more unconventional style, try out a denim vest. The denim vest adds a touch of rugged charm to any outfit. Wear it over a graphic tee or a plaid shirt for an effortlessly cool and edgy look. This style is particularly popular in urban fashion scenes and music festivals.
6. The Denim Jacket with Shorts
During the warmer months, the denim jacket can still be a part of your wardrobe. Pair your favorite denim jacket with tailored shorts and a lightweight shirt for a breezy and stylish summer outfit. This combination keeps you comfortable while ensuring you look on-trend.
7. Accessorize Wisely
The right accessories can elevate your denim jacket outfit to the next level. Consider adding a stylish watch, a leather bracelet, or a fashionable hat to complement your overall look. However, remember not to go overboard with accessories, as simplicity often exudes elegance.
8. Footwear Choices
The shoes you choose can significantly impact your overall style when wearing a denim jacket. For a casual look, opt for clean sneakers or canvas shoes. If you're going for a more formal approach, leather loafers or desert boots can be excellent choices. Remember, the right footwear can tie your entire outfit together.
9. Caring for Your Denim Jacket
To ensure your denim jacket remains in top-notch condition, proper care is essential. Avoid washing it frequently to preserve its color and shape. Instead, spot clean stains whenever possible. When washing becomes necessary, turn the jacket inside out and use a gentle cycle with cold water.