When it comes to men's fashion, the button-up shirt is a versatile and classic piece that can elevate any outfit. Whether you're dressing up for a formal occasion or aiming for a smart casual look, the button-up shirt can be your go-to choice. In this comprehensive style guide, we'll explore various outfit ideas and fashion tips to help you look your best in a button-up shirt. So, let's dive in and discover how to rock this wardrobe essential with confidence.
1. The Classic Business Casual Look
For a polished and sophisticated business casual ensemble, start with a well-fitted button-up shirt in a solid color like light blue, white, or soft pink. Pair it with tailored khaki or navy trousers for a timeless appeal. Complete the look with a brown leather belt and matching dress shoes. This outfit is perfect for office settings, business meetings, or networking events, allowing you to make a professional yet stylish impression.
2. Elevating the Casual Look
Transform your casual look with a button-up shirt by opting for a stylish pattern or print. Plaid, gingham, or floral designs add a touch of personality to your outfit. Roll up the sleeves for a laid-back vibe and pair the shirt with dark denim jeans or chinos. Add a leather jacket during cooler months for an edgy and fashion-forward statement.
3. Effortless Weekend Outfit
Planning a relaxed weekend outing? Embrace comfort and style by combining a soft cotton button-up shirt with tailored shorts. Neutral colors like beige, olive, or navy work well for a versatile and balanced appearance. Complete the ensemble with boat shoes or clean white sneakers, exuding a cool and relaxed vibe.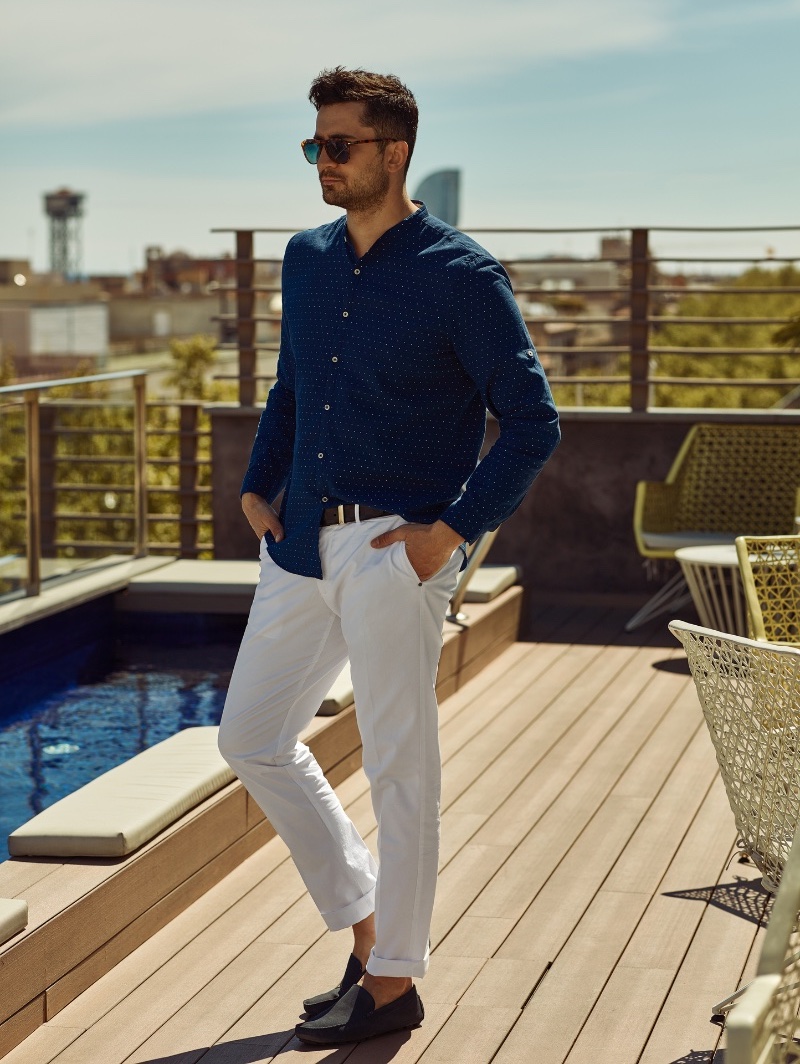 4. Layering for Fall and Winter
When the temperature drops, layering becomes essential. A button-up shirt serves as an excellent base layer, creating a sleek look when worn under a sweater or cardigan. For added warmth, you can pair it with a wool blazer or a suede jacket. Experiment with colors and textures to create a visually appealing outfit that keeps you cozy during the colder months.
5. Dressing Up for Formal Events
For formal occasions, such as weddings or black-tie events, a button-up shirt can still be a valuable asset in your wardrobe. Opt for a crisp white dress shirt and pair it with a well-tailored suit in a complementary color. Complete the ensemble with a silk tie, pocket square, and polished leather dress shoes. This classic and elegant combination will ensure you look dashing and sophisticated.
6. Weekend Getaway Style
Heading for a weekend getaway? Embrace a relaxed yet put-together style with a linen button-up shirt. Linen is a breathable fabric that works exceptionally well for warm weather destinations. Combine it with lightweight cotton trousers or even tailored shorts for maximum comfort. Add some stylish sunglasses and a straw hat for a touch of flair while keeping the sun at bay.