In this comprehensive guide, we will provide you with expert tips and outfit ideas for women on how to flawlessly wear a blazer. A blazer is a versatile wardrobe staple that can effortlessly elevate any outfit, whether it's for a casual day out or a formal business meeting. By mastering the art of styling a blazer, you can exude confidence and sophistication in every situation.
Understanding Your Body Shape
Before diving into outfit ideas, it's essential to understand your body shape to pick the most flattering blazer styles. Here are some common body types and suitable blazer suggestions:
1. Hourglass Body Shape
For those with an hourglass figure, accentuate your waistline by opting for blazers that are tailored at the waist. Double-breasted blazers work particularly well for this body shape, as they emphasize your curves beautifully.
2. Pear Body Shape
If you have a pear-shaped body, choose blazers that fall right below your hipbone to create a balanced silhouette. Avoid blazers with large pockets on the hips, as they can add unnecessary bulk.
3. Apple Body Shape
Women with an apple body shape should go for blazers that elongate the torso and draw attention away from the midsection. A single-button blazer with a deep V-neckline can be very flattering for this body type.
4. Rectangular Body Shape
For those with a rectangular body shape, opt for blazers with defined shoulders and a cinched waist to add curves. Peplum blazers or those with embellished collars can also create the illusion of a more defined waistline.
Choosing the Right Blazer Color and Fabric
The color and fabric of your blazer play a crucial role in determining the overall look of your outfit. Here are some popular blazer colors and fabric options to consider:
1. Classic Black Blazer
A black blazer is a timeless choice that pairs well with almost any outfit. It exudes elegance and can be worn for both formal and casual occasions. For a chic business look, pair it with tailored trousers and a crisp white shirt.
2. Neutral Tones
Neutral-toned blazers in shades like navy, gray, or beige are incredibly versatile and can be effortlessly styled with various outfits. They are excellent choices for creating a polished and sophisticated appearance.
3. Printed Blazers
If you want to add a touch of personality to your outfit, opt for printed blazers. Floral, pinstripe, or plaid patterns can add a pop of interest to your overall look, especially when paired with solid-colored tops and bottoms.
4. Fabric Options
When it comes to fabric choices, lightweight wool or cotton-blend blazers are perfect for year-round wear. For a more luxurious look, consider velvet or silk blazers for special occasions.
Styling Blazer Outfits for Different Occasions
Let's explore some outfit ideas for various occasions, so you're always ready to make a fashion statement:
1. Casual Day Out
For a relaxed and chic ensemble, pair a well-fitted blazer with a graphic t-shirt, distressed jeans, and white sneakers. Add a statement necklace and oversized sunglasses to complete the look.
2. Business Formal
Impress in your workplace by teaming up a tailored blazer with a pencil skirt and a crisp button-down shirt. Choose neutral colors for a sophisticated appearance, and don't forget to accessorize with a sleek leather handbag and classic pumps.
3. Cocktail Party
Look effortlessly glamorous at a cocktail party with a sequin or metallic blazer, layered over a sleek black dress. Complete the outfit with strappy heels and sparkling jewelry for a show-stopping entrance.
4. Weekend Brunch
Stay comfortable yet stylish during weekend brunches by pairing a relaxed-fit blazer with high-waisted trousers and a tucked-in blouse. Accessorize with a wide-brimmed hat and ankle boots for an effortlessly chic look.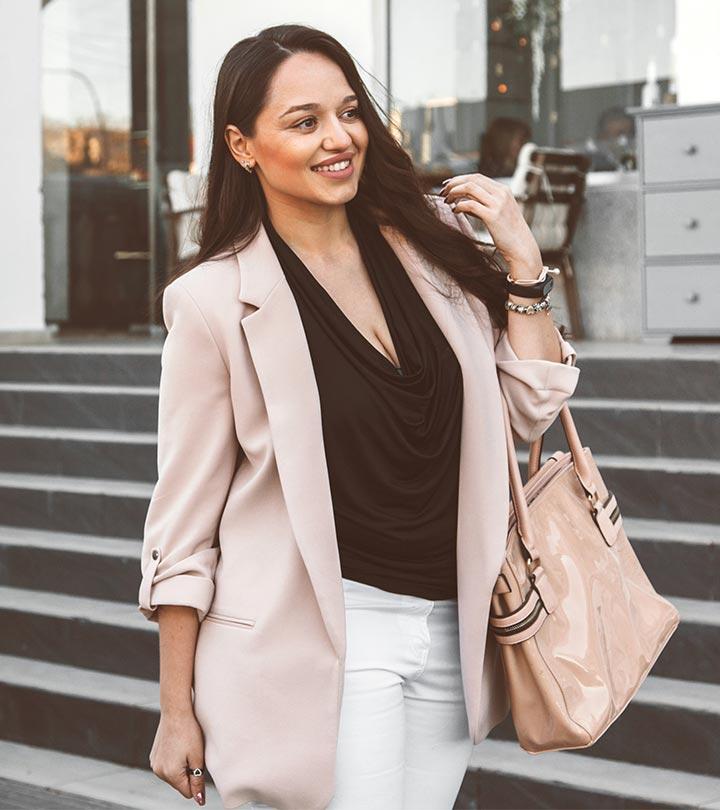 The Power of Layering
Layering can take your blazer outfits to the next level, adding dimension and depth to your overall appearance. Here are some layering ideas to try:
1. Turtleneck Sweater
During colder months, layer a cozy turtleneck sweater underneath your blazer for a chic and warm outfit. Opt for complementary colors to create a harmonious look.
2. Statement Scarf
Elevate a simple blazer and jeans combination by draping a vibrant statement scarf around your neck. This accessory can add a splash of color and personality to your ensemble.
3. Belted Blazer
For a fashion-forward look, try belting your blazer at the waist to accentuate your figure and add a touch of elegance.