Zinc is an essential mineral responsible for forming more than 300 enzymes in the human body. These enzymes are responsible for significant activities, including wound healing, building proteins and DNA, immune system function, growth in children and fertility in adults. Moreover, it maintains senses of taste and smell. Thus, one needs to have basic standards of zinc-rich foods in a daily diet.
Are you scared of facing zinc deficiency consequences? Stick until the end of this article to find out all the healthy food items you can include in your diet rich in this mineral.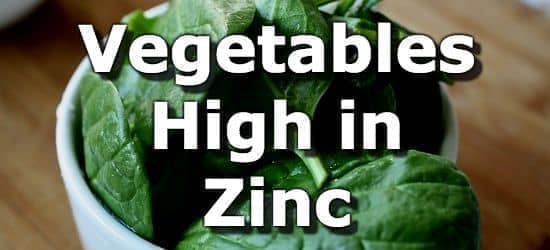 What Are the Top Food Items High in Zinc?
They say, "prevention is better than cure!" Having sufficient zinc in the body from the beginning is better than spending on treatment for its deficiency. For this, one needs to include zinc-rich foods in a daily diet. This helps in improving your immune system and healing your wounds faster. You can check out the following list of foods containing zinc and incorporate these into your diet.
Top Vegetables That Are Rich in Zinc
Vegetables are usually essential food items for daily consumption. Moreover, some of these are high in zinc. Thus, if you are looking for a diet including zinc-rich foods for vegetarians, the following list will be helpful for you.
Shiitake Mushrooms: These are common zinc-rich vegetables. About 100 grams of these mushrooms provide about 1.3mg Zinc, about 12% of its DV.
Green peas: These contain about 1.2mg zinc per 100 grams.
Spinach: Cooked spinach can be one of the vital foods containing zinc. When cooked, a cup of spinach provides 12% DV (1.4mg).
Lima beans: About a cup of cooked beans provide 1.3mg zinc, while 100 grams come with 0.8mg.
Lentil sprouts can also be considered, with 1.5mg zinc present in every 100 grams of such sprouts.
Asparagus: Per 200 calories of asparagus includes 5.5mg zinc, making it one of the essential foods high in zinc.
Beet greens: About 0.7mg zinc can be found in every cup of cooked beet greens.
Broccoli: These are popular zinc vegetables. Every 200 calories of broccoli come with 2.6mg of it and 23% of DV.
Okra: About 0.4mg zinc is found in every 100 grams of okra, with 4% DV.
Sweet corn: This is high in zinc, with about 1.1mg per 200 calories.
Pumpkin seeds: These are good sources of zinc, with 7.99mg of it every 100 grams.
Garlic: One clove of garlic contains 0.1mg zinc.
Peanuts: Nuts are worth mentioning while discussing zinc foods for vegetarians. About an ounce of peanuts contains 0.93mg of it.
Brazil nuts and almonds: These are again essential nuts, containing about 1mg zinc per ounce.
Cashew nuts: These nuts contain about 3mg of zinc every 56 grams.
Rice: Polished rice of 246 germplasm contains 33mg zinc per kg.
Lentils: About 100 grams contain 1mg zinc.
Top Fruits That Are Rich in Zinc
As zinc is an essential nutrient, incorporating such fruits that contain it can be a safe choice for most people. The following list shall discuss fruits rich in zinc in detail.
Avocadoes: This is an essential fruit with about 0.6mg zinc per 100 grams.
Blackberries: Every 200 calories of blackberries contain 2.5mg zinc with 22% DV.
Pomegranate: One of the vital fruits containing zinc can be pomegranate, as it comes with 0.4mg per 100 grams.
Raspberries: About 0.4mg zinc is present in 100 grams of raspberries.
Guavas: A commonly known fruit in India, can provide you with about 0.2mg zinc every 100 grams, with 2% of DV.
Cantaloupe: Every 200 calories of this fruit consists of 1.1 mg zinc.
Apricots: These are other fruits containing zinc with 0.3mg per cup.
Peaches: These contain about 0.2mg zinc every 100 grams.
Kiwifruit: Every 200 calories of this fruit comes with 0.5mg zinc with 4% DV.
Blueberries: About 100 grams of this fruit provides you with 0.2mg zinc.
Top Animal Proteins and Seafood That Are Rich in Zinc
When it comes to the diet of non-vegetarians, the options are always higher. Such people can always consider the following types of zinc-rich foods and include these in their daily diets.
Beef: One of the powerful non-veg foods having zinc, beef comes with 11mg per 100 grams, providing 99% of DV.
Chicken: A roasted chicken leg with thighs contains about 5mg zinc, 49% DV.
Pork: About a 6-ounce lean pork chop provides 4mg zinc and 32% DV.
Eggs: A large egg can consist of 0.6mg zinc.
Oysters: A popular seafood, oysters fall under food items with zinc. About 61mg is found in every 100 grams of these.
Crabs: These are considered good sources of zinc, offering 6.5mg every 3 ounces of cooked crabs. 
Lobster: These are again crucial zinc-rich foods, with 4.7mg in a small lobster (boiled or steamed).
Top Cereals and Dairy Products That Are Rich in Zinc
Certain food items are applicable for both vegetarians and non-vegetarians. These mainly include breakfast cereals and other dairy products. Therefore, you can consider these items while customising your diet with zinc-rich foods.
Milk: Nonfat or low-fat milk usually contains zinc, a common preference for health-conscious people these days. About a cup of such milk contains 1.05-1.1mg zinc.
Yoghurt: About a cup of non-fat yoghurt contains 2.38mg zinc.
Oatmeal: An essential breakfast item containing 1mg zinc per 100 grams.
Corn flakes: About a cup of this breakfast cereal contains 2.8mg zinc. However, this might depend based on the brand you purchase.
Therefore, consuming zinc-rich foods can help you maintain its suitable level in your body, which allows you to reap the benefits, such as more robust immunity. The food items discussed above can contribute to your diet and help you avoid diseases caused by zinc deficiency. However, you should always consult a physician or dietician to set the proper measurements for these food items.