Welcome to our comprehensive guide on blue shirt outfits for men, where we dive deep into the world of men's fashion to help you elevate your style game to new heights. Blue shirts are a versatile and timeless wardrobe staple that every man should have. In this article, we'll explore various outfit ideas, style tips, and accessories that perfectly complement blue shirts, ensuring you look sharp and confident on any occasion.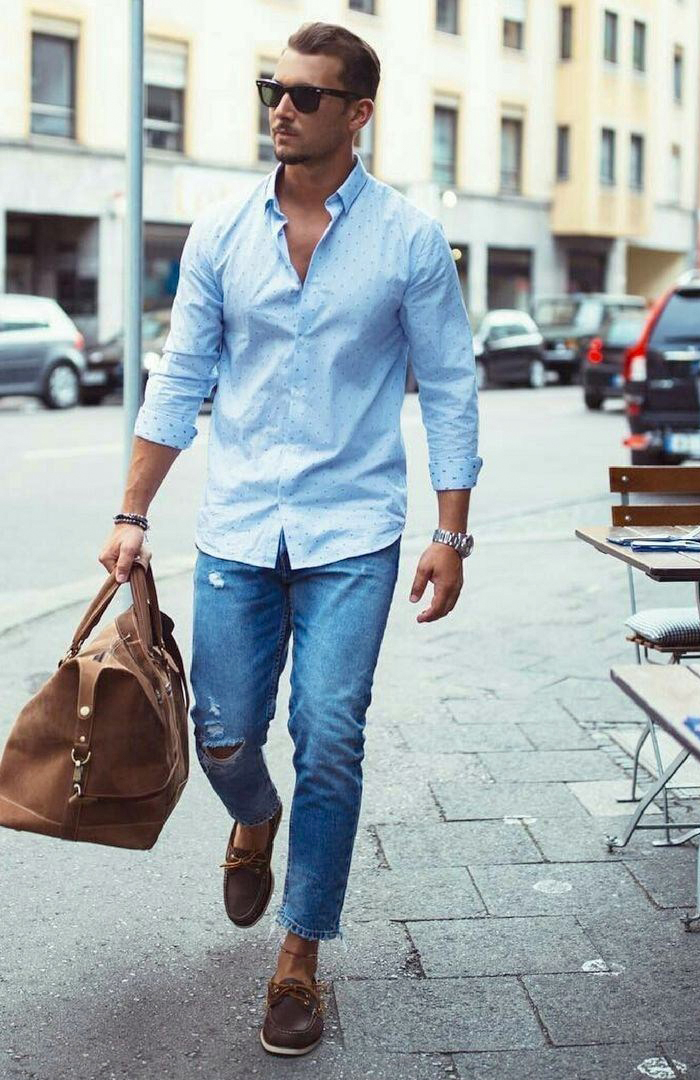 The Classic Blue Shirt
1. The Sophisticated Business Look
For a polished and sophisticated business look, pair your blue shirt with a well-tailored charcoal gray suit. The combination of blue and gray exudes professionalism and commands attention in the boardroom. Complete the outfit with a sleek tie and black leather dress shoes, exuding confidence and authority.
2. Casual Yet Refined
Dressing down a blue shirt doesn't mean compromising on style. Combine your blue shirt with khaki chinos for a casual yet refined ensemble. Roll up the sleeves slightly and leave the top button open for a relaxed vibe. Finish off the look with brown leather loafers or white sneakers for a touch of effortless cool.
Elevating Your Blue Shirt Outfits
1. Layering with a Blazer
To add sophistication and depth to your blue shirt outfits, layering with a blazer is a perfect choice. Opt for a navy blazer, as it creates a harmonious look with the blue shirt. This ensemble is ideal for semi-formal events, dinner dates, or even a night out with friends. Don't forget to accessorize with a pocket square for an extra touch of elegance.
2. Sweater Weather
When the temperature drops, incorporate a sweater into your outfit for a smart and cozy look. Pair your blue shirt with a V-neck or crew-neck sweater in a complementary color, such as light gray or beige. This combination adds both warmth and style, making it suitable for a casual office setting or a weekend brunch.
Accessorizing Your Blue Shirt
1. Ties and Pocket Squares
Ties and pocket squares are essential accessories that can elevate any blue shirt outfit. For formal occasions, choose a silk tie in a bold pattern that complements the shade of blue. For a more laid-back and creative look, opt for a pocket square with a playful design that adds a pop of color.
2. Watches and Bracelets
Watches and bracelets are fantastic additions to complete your ensemble. A classic leather strap watch pairs well with a business look, while a sleek metal band watch enhances a more contemporary style. Don't hesitate to add a leather or beaded bracelet for an effortless touch of casual elegance.
The Versatility of Blue Shirts
1. Blue Shirt with Denim
Embrace the classic denim-on-denim trend by pairing your blue shirt with dark-washed jeans. This combination exudes a rugged yet fashionable look suitable for casual outings and weekend adventures. For a more polished appearance, opt for slim-fit jeans and a structured blue shirt.
2. Blue Shirt with Shorts
During the warmer months, blue shirts can effortlessly transition into a stylish outfit when paired with shorts. Choose tailored shorts in neutral colors like beige or olive green. Tuck in your blue shirt for a polished look, and finish off with boat shoes or loafers for a laid-back vibe.